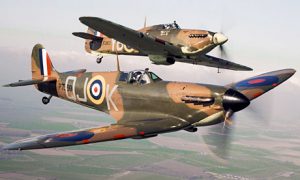 The sleepy Sussex town of Bexhill-on-Sea has called in the RAF to tackle a rogue para-glider who has been 'buzzing' residents by flying low over the seafront and screaming abuse at them.
Wing Commander Anthony Batley-Forsyth, a 96 year old veteran of the Battle of Britain, spoke to Spoofflé from his cottage on Galley Hill. "I'd seen the blighter a few times, circling overhead, but I thought he was one of ours. Then I had a bell from one of the chaps at the Town Hall, in a bit of a flap, apparently it's a Hun! He asked if I'd co-ordinate ops so of course I said 'wilco'."
Hastings police have so far failed to identify the dare-devil and have appealed for help. The Wing Commander, who flew Spitfires in WWII and was credited with seven kills, has rapidly marshalled his local resources. "We'll get the blighter! Doris at the tea rooms is covering our Western approaches and Barry the postie, he's watching the take-off strip."
Batley-Forsyth is a well-known character in the area, having fought numerous battles during the fifty years he has lived alone at his coastguard cottage. Nudists, sea gulls, mods and rockers, anyone who 'looks foreign' – all have been on the receiving end of his tirades or his .22 air rifle, and sometimes both.
Asked exactly what he and his squadron would do if they spot the flyer, Batley-Forsyth tapped the barrel of his air rifle and said: "Open up on him, that's what I'll do! Put a pellet in his undercarriage, that should bring the kite down pretty damn quick." Our reporter left the Wing Commander in his deck chair, scanning the sky with binoculars. "Dawn's the time," he said. "That's when he'll come, probably sweep in low from Calais, under the radar the crafty bugger, try to keep the sun behind him to dazzle our crews. But oh yes, we'll have him, don't you worry."