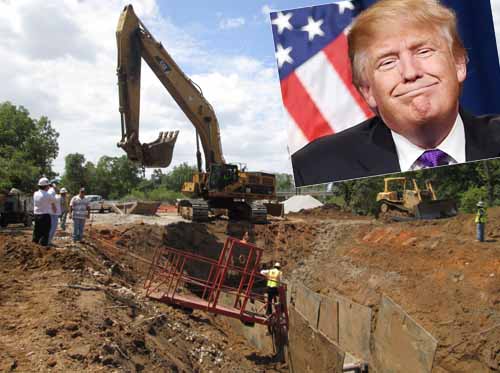 Donald Trump last night appeared to be back-tracking on his election pledge to build a wall along the Mexico border.
Over a series of rambling 3am tweets, the President said:
'So the House WONT approve $5 billion for our wonderful wall. BETRAYAL! Well it just may be a TRENCH! Why NOT? Like a really beautiful, deep wide DITCH full of such bad bad water and ALIGATERS! Lots of ALIGATERS with those big TEETH they have!'
In a White House press statement this morning the President appointed construction billionaire Howard J Burrows III to head up the new Homeland Trench Agency.
In a later tweet, the President asserted: 'The BEST thing is folks – Mexico is going to DIG IT for us! And it wont cost us a DIME, trust me! I'll even make em supply the ALIGATERS!'