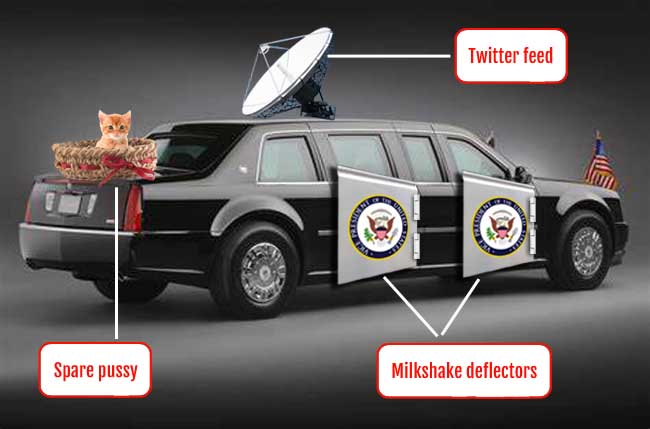 Spoofflé can reveal that 'The Beast' – Donald Trump's 9 ton armoured Cadillac – has been specially modified in advance of his visit this week to the UK.
Following recent warnings from US embassy staff, the heavily armoured car now has 2 inch thick, MIL-spec steel milkshake deflectors on all four doors, capable of withstanding multiple Mcdonald's strawberry or pineapple 500ml attacks.
A high bandwidth, satellite transmitter on the roof will keep the president permanently connected to his Twitter feed and, after trials of The Beast at his Florida estate last month, GM have now added a spare pussy as he demanded, mounted on the boot lid (or trunk lid for our US readers).
Unfortunately, as the vehicle is sealed against gas and chemicals, in an emergency this can only be grabbed from outside the car.