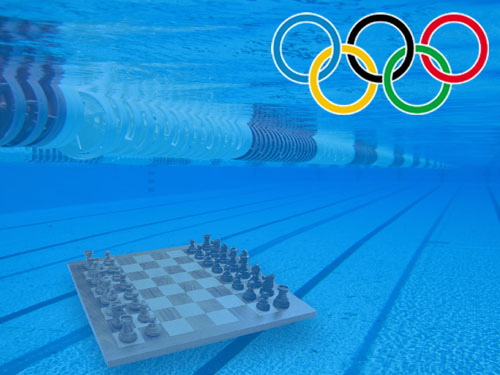 After decades of lobbying, the International Olympic Committee (IOC) has confirmed that Underwater Chess will be included in the Paris 2024 games.
Spoofflé Sports Correspondent Kay Smiley attended the Press Conference this morning in Paris.
'This is bound to be an exciting and popular addition to the Olympics,' she said. 'There will be two categories of competitor: Grand Masters and Free-Divers, with a competitor from each group in every game.'
Kay contacted Jean-Marie Lagarde, French National free-diving champion, to ask how his training was going. He told her he had no problem sitting three metres down for eleven minutes on a single breath but had yet to master the rules of the game. 'Zee prawn, 'e is zee big one, no?'
Latvian Grand Master Ludvigs Gulbis is still undecided about entering the event, admitting to Kay Smiley that he still can't swim and would need to wear arm bands.
'I can't wait to see this contest,' said Kay. 'My money is on Ludvigs, if he can just get down to the board for three seconds he's bound to crush Jean-Marie. But who knows?'