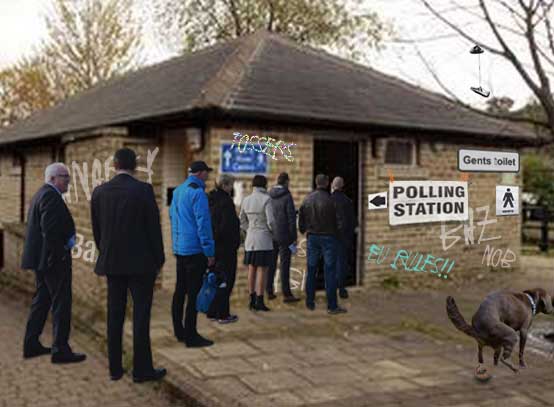 Residents of the tiny Wiltshire village of Nether Regus are this morning placing their MEP votes at an emergency polling station set up in the local public toilets.
Their usual polling venue is in the 1st Nether Scout hut which unfortunately burned to the ground last Wednesday while the boys were taking their 'Unstable Compounds' badge.
This photo was sent to Spoofflé this morning by village post-mistress Phoebe Trench, 63, shortly after placing her vote. She told us: 'I haven't been in there since I was a girl of 9, and then only for a dare,' she said, 'and it hasn't changed a bit.'
Miss Trench also reported that villagers queuing outside to vote were holding an informal sweepstake on who could get in and out in the shortest time.
'I'm still in the lead at the moment with 8.2 seconds and I think the slowest so far is Gladys Mountjoy at 13.1 seconds, not bad as she's 102, blind and in a wheelchair.'