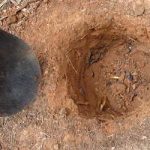 Ferry operators look out: the ladies of the Isle of Wight Women's Institute, fed up with rising fares and dirty boats, are digging their own tunnel under the Solent.
The new link will leave the North West tip of the island beneath Gurnard Beach and reach the mainland opposite Lepe Country Park, a distance of about 4km.
Retired Librarian Evelyn Burrow, 79, outlined the ambitious project. "We only started last Tuesday so it's early days, but Phyllis Snodgrass is bringing her Bert's pickaxe tomorrow and Tom's Gift Shop has given us some buckets and spades, which is very kind of them. I think we've dug down about a foot so far."
Asked about the dimensions of the tunnel, Phyllis held her arms wide and grinned. "We got the idea from that war film, you know, 'The Big Escape' with Alexander McQueen."
However, the women we spoke to were admirably realistic about a completion date. "How long's a piece a string? A couple of years at least," offered 63 year old Maggie Handel, crouched over the entrance hole, sweat running down her brow as she scraped another load into a jam jar.
"But it could be a lot sooner," suggested Phyllis. "The Portsmouth WI have said they'd like to start digging too, from the other side." She cupped her hand over her eyes and squinted across the water. "Not sure how we'll meet up though." Maggie shook her head. "It doesn't matter – if they don't meet then we'll end up with two tunnels!"
We wish them well and plan to report on progress next year.