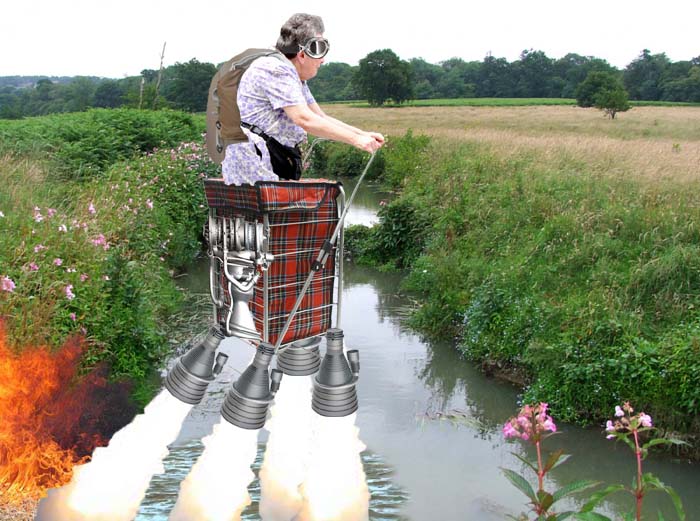 A retired librarian from Uckfield, East Sussex, has become the first person to cross the River Uck unassisted, using a jet-propelled shopping trolley.
Miriam Paige, 87, has dreamt of making the treacherous 16 foot crossing since she was a child and says she got the idea from watching the BBC programme Blue Peter.
"I got a bit bored making brain scanners from old toilet roll tubes," she said, "but then someone, I think it may have been their dog, built a jet engine from three paper clips and an Alka-Seltzer, and that did it for me – I was hooked!"
Miriam sourced most of the components at local boot fairs and has built the machine (the 'Tartan-1000') over the past seven years in her garden shed, basing the rocket motors on 76,000 pages of NASA design specifications her grandson found on a Russian web site.
On standby during the three second flight were an RNLI in-shore RIB and local Fire and Rescue services, who quickly extinguished the small brush fires which Mrs Paige inadvertently started as she took off and again as she landed.
Spoofflé Technology Correspondent Crispin Grundwald asked if she planned any further record attempts.
"I don't really know," she said. "My husband wants me to give up but after today I'm starting to think about maybe taking on the River Mole in Surrey. It's a biggie that one, over 37 feet wide in places and they say there are five foot pike in it but do you know, no-one has ever, ever crossed it. Well, not in a shopping trolley anyway."