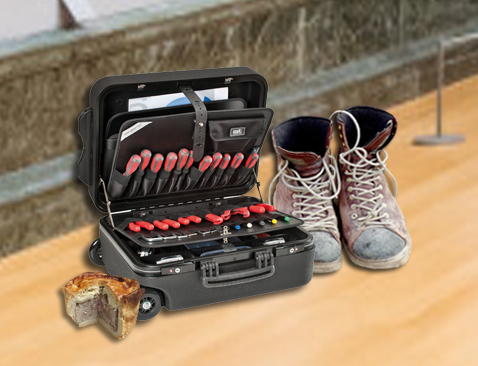 Embarrassed faces at Tate Britain last night as its director admitted that an electrician's box of tools had been mistaken for a short-listed entry for this year's prestigious Turner Prize.
Alex Farquharson told Spoofflé that the red tool box, a pair of size 11 safety boots and half a pork pie was assumed to be an overnight installation entitled 'Stuff' by the acclaimed Chinese artist and dissident Nay Woo Woo. Photos of the installation had apparently already been emailed to the judging panel and posted to the gallery's web site and Facebook account before being removed a few hours later.
Charlie Spiggott, 59, an employee of Ohmer Electrics Ltd, later claimed the items as his own. "I wondered where the hell they'd gone," he said. "But you never know, it might 'ave won!"
The situation took an amazing turn at lunchtime today when Mr Woo Woo turned up at Tate Britain with his own work, a seven metre high toolbox packed with plastic pies and mounted on a giant black boot. "An incredible coincidence, don't you think? Incredible." We agree.