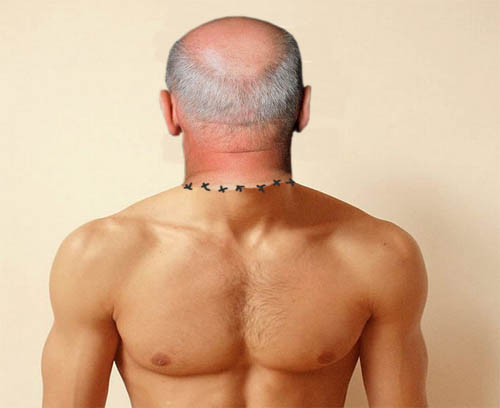 Surgeons at a leading research hospital in Ukraine have carried out the world's first transplant of a human head, hailing it as a major breakthrough for medical science and a 'partial success'.
In an operation lasting over 19 hours, two teams successfully removed the intact head of 55 year old artisan carpenter Bogdan Pasternak and attached it to the muscular young body of actor Olek Zalenko, tragically killed while rehearsing a blindfolded Samurai fight scene at the Kiev Centre for Drama. Apparently it was only the quick thinking of Olek's fellow thespians in applying two bags of frozen garden peas to the wound and rushing his fresh torso to hospital that made the procedure possible.
Mr Pasternak had complained for years that he hated his 270kg body, a view shared by his 21 year old wife. She saw an appeal for participants for the transplant scheme in a newsagent's window and signed him up as a birthday surprise. When he received the call that a suitable body was available he seized the moment.
Unfortunately the actor's body, wrapped tightly in a plastic body bag up to the exposed neck, was attached back to front and the doctors felt it too risky to attempt a reversal. However, the surgeons believe they successfully connected up most of the many blood vessels and nerves involved. One of the nurses present reportedly told a local newspaper that there were 'quite a few wires and tube things left dangling from the head' and that she was told to 'just tie them together as best you can.'
Mr Pasternak sounded optimistic when we spoke to him by telephone last night, recovering at home three months after the operation. When we asked him how he was feeling he said: 'Wife say body good, but not good view for me when look in mirror. Also, right arm do what I tell left foot.'
Mrs Pasternak sounded frustrated with the outcome. 'It not right,' she complained. 'Now we must buy second TV and I helping always Bogdan go pee pee cos he not so good shot.'