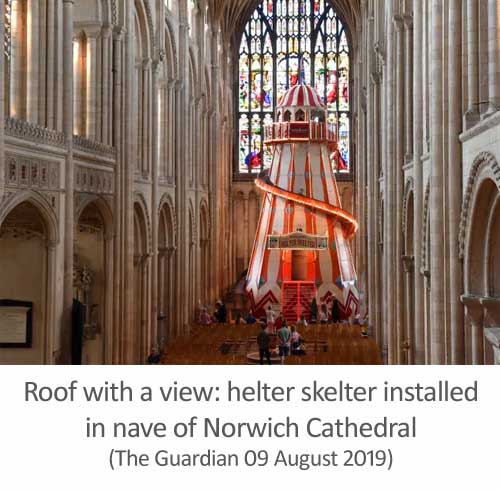 Regular readers are used to Spoofflé predicting key social and scientific trends and staying ahead of traditional news outlets.
But today's opening of a 55ft helter-skelter in Norwich Cathedral (yes, it's actually true) should come as no surprise: on September 21st last year we exclusively leaked plans by Ely Cathedral for its own monster ride, in addition to dodgem cars!
Read the original Spoofflé story here …
Rachel Bleary, worshipful fun co-coordinator at Norwich Cathedral, was in no doubt the idea had come from Spoofflé'. "Oh yes, we all follow Spoofflé', it's where we get our news," she said. "We sort of fit it in between evening prayers and karaoke psalms. I spotted your article and thought 'golly, here's a chance to get one up on Ely' so £387,000 later, here we are! None of us in the fun team thought the roof was really that bad, not with all the new buckets we've put out."
The project is believed to have been partly funded with a grant from Elton Husk, billionaire boss of Tossa cars, who apparently already has a 95ft helter-skelter in his office.