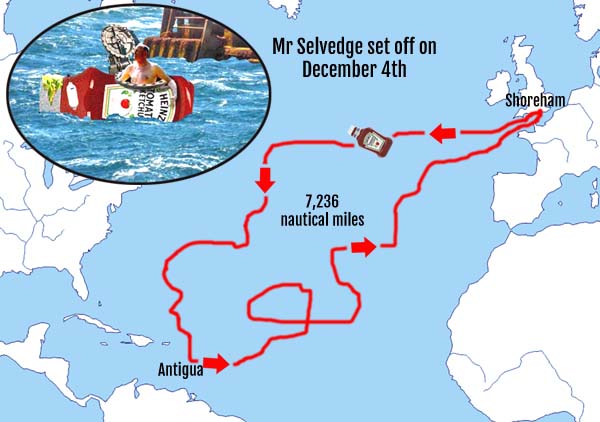 After five grueling months drifting at the mercy of Atlantic currents in an ex-display Heinz ketchup bottle, a retired accountant from Sussex has finally floated back into the same harbour he set out from. (Reported here on Spoofflé 04/12/18)
Malcolm Selvedge, 73, claims to have been within sight of the coast of Antigua in the Caribbean before Hurricane Jeremy pushed him all the way back to Shoreham harbour, only to be told that Frenchman Jean-Jacques Savin had just made landfall on the tiny Dutch island of Sint Eustatius in a barrel and claimed the record.
"I'm totally gutted," Malcolm told local Spoofflé reporter Fergal Brandreth as he lay on the quayside. "Bugger, bugger, bugger. It's bloody unfair isn't it and I've covered 7,000 miles too."
The ultra-fit pensioner, who has no sailing experience, says his navigation equipment packed up after he ran out of AA batteries but claims to have logged his progress each morning by peering out of the single porthole to see where the sun was and raising a wetted finger to the breeze. "It's actually quite an accurate method," he said. "The Aztec Maritimo tribe used it, as did the early Nordic rafters."
Asked if he had needed to use a sextant during the voyage, Mr Selvedge replied: "Don't be disgusting" and stormed off.
Following the interview, Fergal Brandreth was unable to confirm a report from a Littlehampton dog walker that a giant ketchup bottle had been tied to the Whelk and Anchor public house mooring since early December.