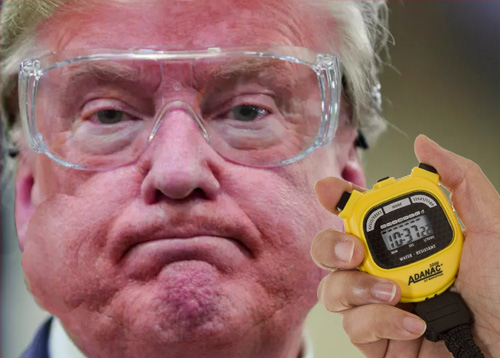 Donald Trump has revealed why he sees no need to wear a facemask: he simply holds his breath when he meets people.
In a 2am message posted on Twatter, his new social media platform, the president twatted:
"It's SIMPLE! I take a big breath, maybe one, sometimes two, who knows, then I don't take in any evil, nasty VIRIS for ten minutes, maybe MORE! People should be doing this everywhere. STOP BREATHING AMERICA and it can't get you! I've asked my experts to look into this. We'll see, it's worth a try. Maybe not taking a breath for a whole DAY would cut down infections."
He also referred to a recent medical examination conducted by his personal physician Dr Randy J Zephoratsky.
"He was amazed at my health, SO AMAZED! He reported that I have the physique of a 22 year-old athlete, maybe even 21, who knows, and the lung capacity of a blue whale."