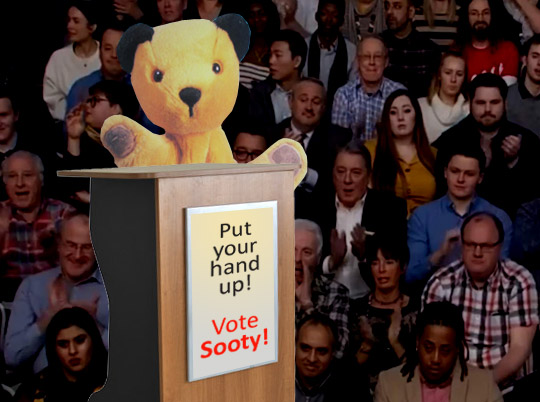 The Labour Party has suffered a major election setback after Sooty, MP for Corby Central, announced last night that he is standing down with immediate effect.
The popular philosopher, classical scholar and entertainer held the seat with a comfortable 17,000 majority at the 2017 General Election.
"To be totally honest, I've had enough," he told Spoofflé. "Everyone's swallowing this Marxist ideology of state control and reckless spending without using an ounce of common sense. They're behaving like a load of puppets."
Sooty's manifesto (titled "Put your hand up!") promises free dental care for all household pets, free ventriloquism lessons for men over 50 and zero VAT on soft toys.
Marion Etta, Sooty's local agent, believes voter loyalty and a clear, Brexit-free message will give him a clean sweep of the predominantly working class constituency.
* Spoofflé has reported previously on Sooty:
'Sooty to make keynote speech at Labour Party autumn conference' (30/8/2018)
'English Heritage approve Blue Plaque for Sooty's London home' (20/2/2019)